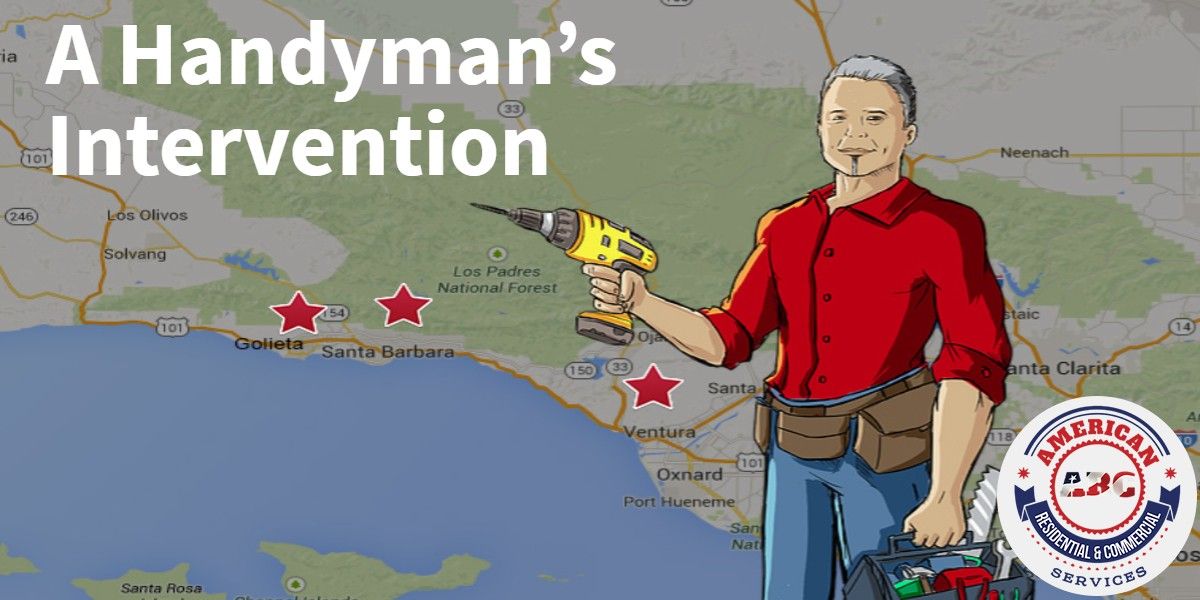 A Handyman's Intervention
You are probably wondering why I called you all here today. I'll tell you it has nothing to do with the price of gas in Carpinteria, even though that could use an intervention. Not to say that this is an intervention… okay, so it is an intervention. At ARC Services, we are worried about you. You have neglected all of those little things in your home until it has become overwhelming and something that can seem out of control. And nobody likes to be out of control, do they?
Conquer Your Fears
Now, we are not saying you have a problem, only that we have a solution. As Carpinteria's local handyman, we want to help you take the fear out of those areas of your home that can seem a little stressful. We have years of experience providing handyman services, and we are able to make our clients happy by providing superior results.
The Backyard
This area can be one of the most neglected parts of a home and one of the most scary. Well, it doesn't have to be and with our help, we can get you back to loving your backyard like you used to. A backyard that has been neglected, or just getting along in years, is generally suffering from quite a few issues. When you stand in your backyard, do you look over the landscape and survey it as your domain.Do you see your own personal slice of paradise? Or a tangled wasteland in need of some serious help? Regardless of your vision, every backyard could use some work. Take for instance that gate in the corner that never quite closed right, or the old oven that is still in the middle of the garden. These issues are just a phone call away from being put to rest. Next time you need a handyman that knows backyards, contact ARC Services.
The Garage
Think back to the day when you moved in to your home, the birds were chirping, somewhere in the woods a raccoon stood up on its hind legs, and the call of an eagle was heard in the distance. The possibilities were endless, it was a whole new era of organization. You were not going to let your garage become unorganized, you were going to downsize and maybe even turn half of the garage into a yoga studio. Well multiple years later, your garage may resemble a scene from a post apocalyptic wasteland, only without the zombies. Needless to say, regardless of your best intentions, your garage has become unorganized and cluttered. If you are one of those rare people that never use their garage for storage, we salute you, most of us expand to the point of having to park the car in the driveway.
You can walk into any garage and if you see a few specific indicators, you know that it is time to start some serious organizing. The first indicator is Christmas lights… in plain sight… in July. The second is any vehicle, running or not, that is covered in various boxes and household items. These two conditions mean that your home is completely out of storage and you have no other options. This is where a plan is in order, at ARC Handyman Services, while we can do anything about the sheer number of items you have in your garage, we can make it easier for you to store them. We are organizational masters with the skills and the know how to bring your garage back to its first day glory. We can haul off some of the junk you don't need and build shelves for the stuff you just can't part with. It's time to get your garage organized, ARC Services can help.
The Kitchen
Where do we start with the kitchen, arguably one of the most important rooms in the home. Every kitchen is the focal point of any gathering and because of this, it should be spectacular, but if it is far from incredible, it is time to inject some life back into your flatlined kitchen. The first thing people notice is the lighting. If a kitchen has bad lighting, nothing, not even a seven door Sub-Zero fridge with built in wine rack and meat cooler, will look good. At ARC Handyman Services, we can update your lighting with the most modern fixtures available.
Kitchens, like the garage, can tend to become a bit unorganized. When your pots and pans or your thousands of food storage containers become overwhelming it is time to rethink your storage options. At ARC, we can build a myriad of unique storage solutions. All you need to do is give us a call and get your kitchen upgraded with ARC Handyman Services today.
It's Not Your Fault
If your home is in dire need of a bit of attention, it's not your fault, that is just the way things happen. At ARC, we are here to walk with you through what can be a difficult time in your life, that moment when you realize that your home needs help. No matter what you need for handyman services, we can help. From the backyard, the kitchen, and even the garage, we are Carpinteria's most recognized handyman services. From small jobs like a dripping faucet to the big projects like building a new gate, you can trust the superior workmanship you will receive with American Residential and Commercial Services.