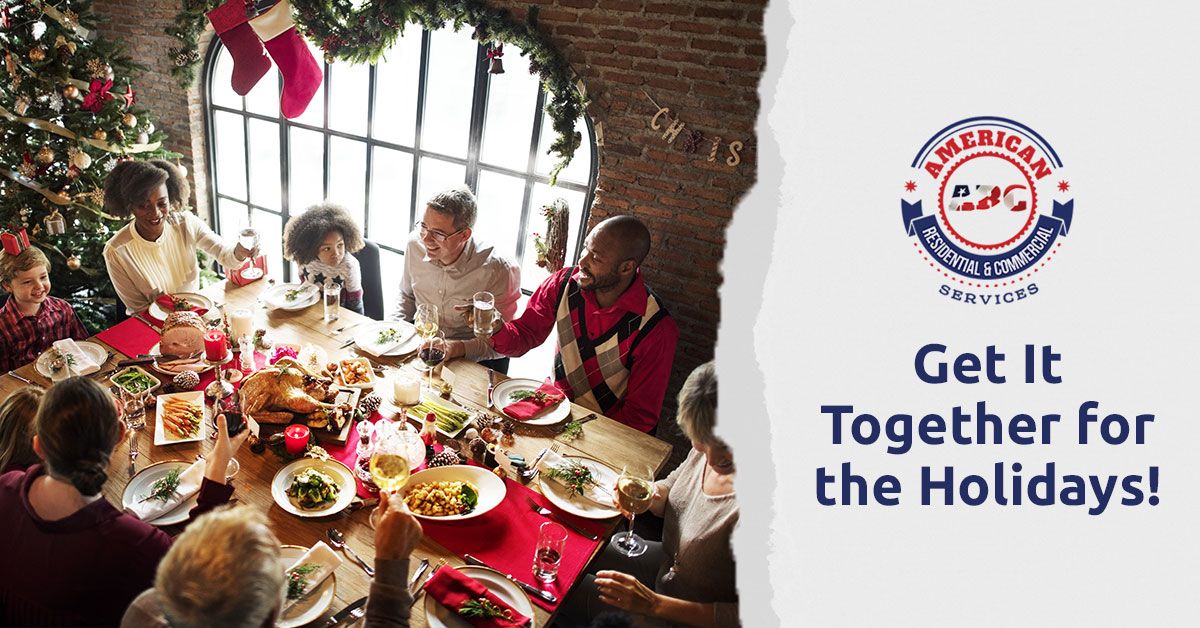 Get It Together for the Holidays!
The holidays are the best time of the year, no matter how you celebrate. The common thread that many of us share this time of year, is that many of us either travel to see family, or family visits us. That can come with a large amount of anxiety, particularly if your mother-in-law is coming to visit. If you are going away this holiday, the stress can be all too real as well, considering the preparation can take a toll. Regardless of whether you are staying home this holiday, or traveling, the experts at American Residential and Commercial Services are standing by to help with your needs. Whether that be painting, yard clean-up, or even light carpentry, ARC is your most trusted, local handyman service.
Pre-Holiday Home Prep
Staying home for the holidays, for some, is the best way to celebrate, but that may mean an influx of guests and family. When the family decides to crash your house it is far too easy to see all of the little things that have piled up over the year. Little repairs, paint touch up, the nasty grout in the tub, all of these items have a way of getting away from the average homeowner. None of us mean for these things to get out of hand but that is just the way things work. Life is too busy to worry about the last time you power washed the back patio, let the professionals at ARC Services handle it! Let us handle the annoying little repairs around the house that you have lost track of over the past year. One of the most common residential services we provide this time of year is simple repairs. Things like flooring repairs, clogged drains, painting, and maybe some tile work. Generally, our clients want their home to look amazing during the holidays and ARC can make that dream a reality.
Making Room For Guests
When you have out-of-town guests, whether they be unannounced or scheduled, you will need a place to put them. And no, your mother-in-law is not to be stuck in the garage, as nice as that may sound. Before you have a home filled with holiday guests, this is the perfect time to think about some new furniture. Now if you are any self-respecting homeowner, you will head to the place with the Swedish meatballs and get yourself some new furniture. The problem is, all of that stuff has to be assembled by you and that can be a miserable way to spend an afternoon, or a week in some cases. If you have ever tried assembling a box full of screws, plywood, and despair, you know what we are talking about. At American Residential and Commercial Services we are so familiar with the Scandinavian furniture, we should have an honorary Viking title. We will assemble pretty much any furniture you desire — everything from entertainment centers to office furniture, we do it all. So put in those orders now and give us a call, we can have all of your new furniture assembled and ready to go for the Holidays.
Watching The Ball Drop
Few things are more exciting than watching the big ball slowly creep its way down the pole into a bucket. OK so the famous Times Square ball drop is not that exciting but a tradition for many nonetheless. We get to watch a million New Yorkers, freezing their jingle bells off, and loving every minute of it. What you need this year is a new TV to watch this curious, uniquely American display of celebration. The problem is, where do you mount the TV when you get to your house? You may have already had to rent a truck just to get the thing home. At ARC Services, we will mount your TV, hook up all the components, and even assemble a bookshelf for the books you will never read again. Besides, what are the holidays without football?
Let ARC Make Your Holidays Better
So no matter what you need to make your home into the ultimate holiday palace this year, now is the time to contact your handyman experts at American Residential and Commercial Services. We can install your new TV, put together your new couch and even fix that loose tile in the shower. Keep in mind that we will need an appropriate amount of lead time to perform more complex repairs. We want you to be proud of your home and your guests to be impressed. As the year comes to a close, we also would like to say thank you for your business in 2018 and we look forward to serving you in 2019. We can help make your home more comfortable for the holidays — yes even for your mother-in-law.