How a Handyman Can Help You
Your home is a special place where you make special memories, spend time with friends and family, and live your life. Throughout the years of living life and making memories, your home will likely run into a few issues. From plumbing problems to chipped tiles, anything can happen in your home when you least expect it. These problems shouldn't take away from enjoying your home.
As the home ages, you may run into more and more issues, while some minor things, like a dead lightbulb, can be easy to change yourself, other problems may need the help of someone else. That is where we come in.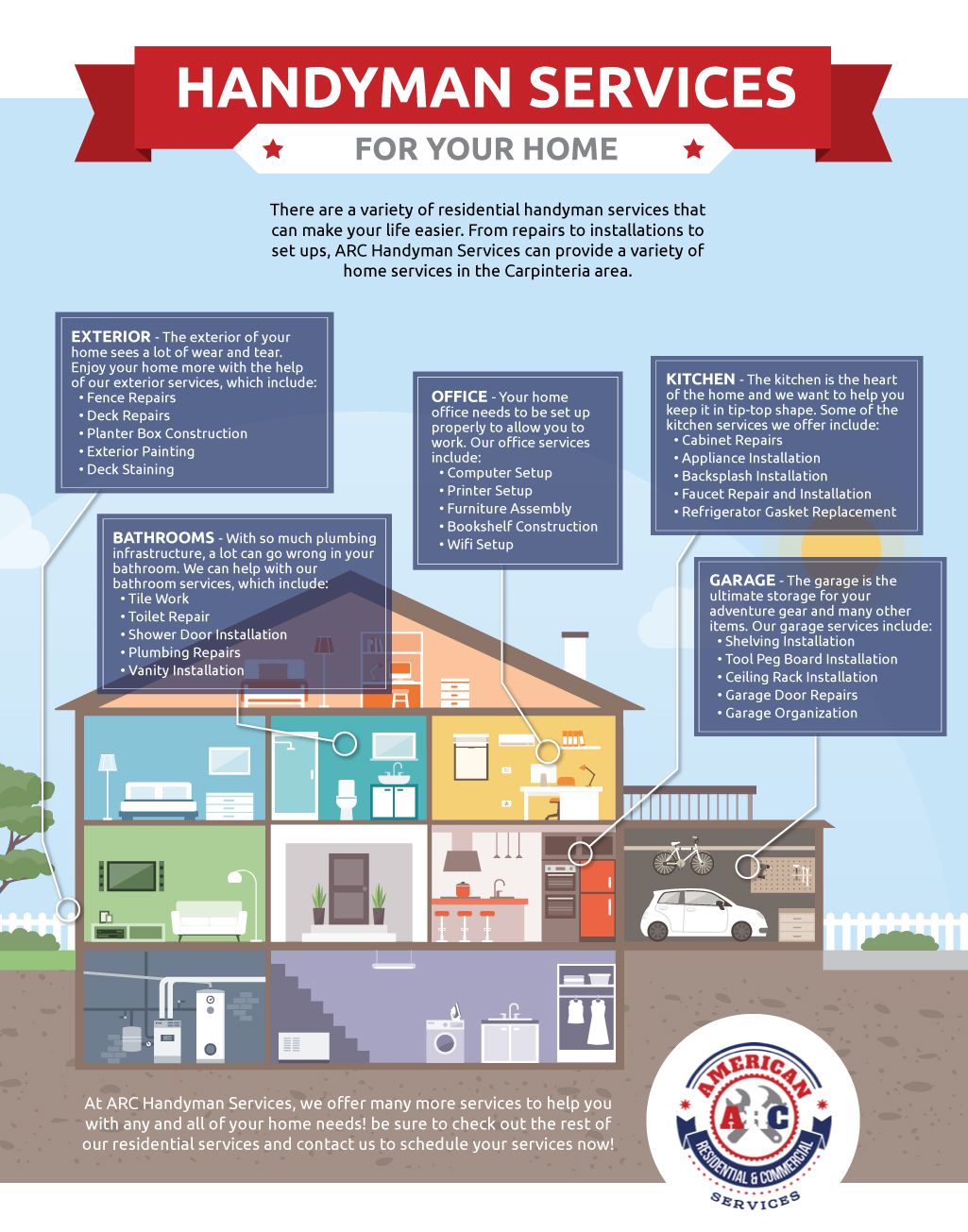 At American Residential & Commercial Services in Carpinteria, we offer a variety of residential handyman services that can help you with any home issue you may run into. We offer a variety of handyman services for the home, with specific services for each room and different jobs. Our residential services include:
Carpentry work
Work in the bathroom
Work in the kitchen
Painting
Flooring
Work in the garage
Work on doors
Work in the office
Work in the attic
Work on windows
Plumbing
Work in the bedrooms
Electrical
Work in the basement
Electronics
With so many services that we have to offer, we can help you in a number of ways. In this blog, we are going to talk about some of the ways that our handyman services can help you and improve your home!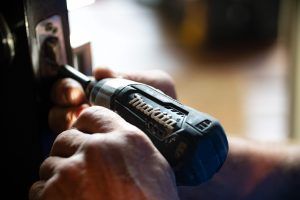 Minor Repairs
One of the best ways that a handyman can help you is by doing minor repairs all over your home. Some repairs may be just a little too complicated for you to complete or your schedule is too busy and you keep putting it off, and that is when a handyman is a great choice. At ARC Handyman Services, we c
an provide minor repair services for just about everything in your home. We can repair toilets, drains, cabinets, tile, hardwood, garage doors, pet doors, screen doors, attic stairs, window blinds, furniture, outlets, and so much more. The list goes on and on, meaning that we can help you with just about any repair you need in your home.
When you hire our team for repair services, you will be able to relax and let the professionals take care of it. Whether the repair is a little too much for you to handle on your own, or you simply don't have time, we can take care of the problem quickly and efficiently.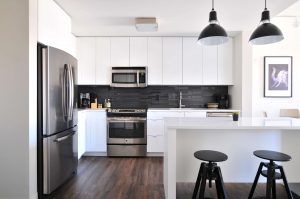 Appliance Installation
Throughout the years, your home's appliances will slowly begin to die. When this happens it is important to replace them with newer models that will last for years. When you get new appliances, you want them installed right away to help keep your regular routine and day-to-day life moving smoothly. These appliances bring a lot of convenience into our lives and you don't want to waste time having them installed!
Our team at ARC Handyman can help! We offer installation services for a variety of appliances. Rather than trying to figure out how to install your new appliance on your own, hire an expert to take care of it for you! That way, you can enjoy the convenience of your new appliances in no time with no issues in the near future. We can install water filters, oven hood fans, dishwashers, garbage disposals, and other small appliances. We will be able to get the job done quickly so you can get back to your schedule.
Electronic Setup
While electronics have taken over our daily lives, many of us still do not know how to set up any of our electrical devices. Our team at ARC Handyman can help! We offer electronic services to help you get everything up and running. We can set up your entertainment system, set up your computer, mount a TV on your wall, and repair and install lighting fixtures. With these services, you can sit back and enjoy your favorite electronics without having to worry about the actual set up process.
Furniture Assembly
When you buy furniture that needs to be assembled, you may be in for a bit of a nightmare. We have all assembled furniture at one point or another. This likely led to frustration, fights with loved ones, a scream or two, and a wonderful feeling of accomplishment when you finished, followed by the promise to always buy assembled furniture from that point on. While putting together your own furniture may be just a minor frustration in your life, why not deal with it at all!
Our team at ARC Handyman Services can help you assemble any of the furniture you are adding to your home. From bedroom furniture to office furniture, we can help put together any pieces you need help with. You will no longer have to fight, grow frustrated, and swear off buying new furniture ever again. We will be able to help you with any furniture you need to be built.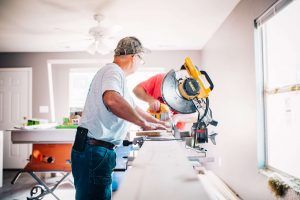 High-Quality Results
While you may be able to install a ceiling rack in your garage on your own, imagine installing that rack, loading gear and boxes full of stuff on that rack and have it fall from your ceiling, making a mess and causing damage. Our expert handyman will be able to produce a variety of home services that have long-lasting results. We provide high-quality work that you can trust. While we know you can perform your own handyman work around your home, if you want a job done with results that you can rely on, our team is ready to help!
Save Time and Money
When you hire a handyman to take care of the small problems around your home, you can save time and money. A handyman can save you time by taking care of your home repair needs and problems for you. No matter what home project you need to be done, hiring a pro to do it for you gives you more time to do the things that really matter, like spending time with family. While hiring someone for your home repairs, installations, and setups may seem like it would cost more than just doing it on your own, you can actually save money when you hire a handyman. This is because they know how to get the job done right the first time and provide fast and efficient results. When you take care of repairs or installations on your own, you may end up doing it wrong, causing more damage, and having to spend more money in the long run.
No matter what your home needs may be, American Residential & Commercial Services in Carpinteria can help you! We offer a variety of residential handyman services that can make your life simpler and help you get your home back in the best shape possible. Learn more about our residential services and contact us today to get started on your home projects!