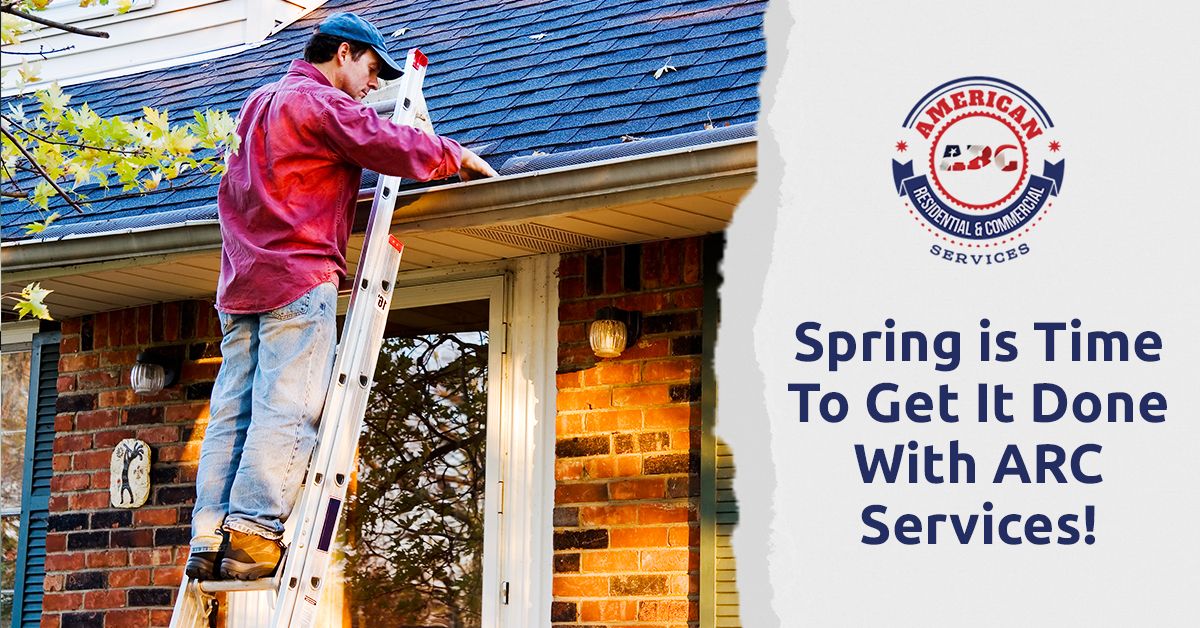 Spring is Time To Get It Done With ARC Services!
We have been talking a lot about spring cleaning lately. OK, maybe it is a little too soon, but the time change is this weekend and March is nearing the halfway point. Most of us really enjoy spring; the weather is gorgeous, not too hot and some days here in Carpinteria, you can throw on a pair of sweatpants for your morning run. The cool mornings will soon give way to the hot days of summer and believe us, you want to be ready. You are probably thinking, "I want to spring clean my house but the weather is just too nice." Believe us, we get you. That is the origin of American Residential and Commercial Services, we do the work so you don't have to. You see we love performing maintenance and home repair work so much that we made it the focus of our business. The only problem is, our appointment book for spring is filling up fast and it is high time you get ahold of Danny for your spring maintenance tasks. But what if you don't know where to start, there are probably a hundred different tasks to add to your to-do list, which one is the most important? We took the liberty of putting together a list of tasks that are critical to consider when preparing for spring maintenance.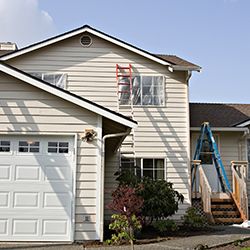 Roof
Your roof is the ultimate protection for your home. If you think about it, a small hole in your roof can quickly deteriorate into a full blown emergency when the rains come. Your roof should be a priority when performing spring maintenance. If you notice any leaks on the inside of your home, or missing shingles on the roof, your should have it repaired right away. While we can't tear off and replace your whole roof, at ARC Handyman Services, we are experts at small roof repairs. We will repair small holes, replace some missing shingles, and even hammer down some new flashing if needed. If you are not sure your roof needs repairs, simply give us a call and we can come inspect your roof for any obvious damage.
Paint
Your home's paint is the protective layer your home needs in order to survive the elements. Without paint, your home would be reduced to a puddle of mush within a few years. A good quality paint has the ability to withstand many years of abuse from Mother Nature, but as with anything paint should be replaced periodically. If you have noticed spots on your paint that are peeling, cracking, or just plain falling off, it is time to contact ARC Services for a touchup. A touchup paint will generally encompass the trim surrounding doors and windows. These areas are more susceptible to damage and should be touched up more often than the larger exterior walls of the home. The best practice is to always save a small bit of paint after a job is done, that way you can quickly find the same shade when you are wanting to touch up your home.
Siding
The siding on your home is a protective shell that repels damaging weather and elemental effects. Most siding these days is either plastic or a type of composite wood. While siding is not damaged very easily, it can happen. Hail, errant baseballs, and even animals can make cracks in your siding. At ARC we can help you fix your damaged siding and ensure that your home is protected through the summer.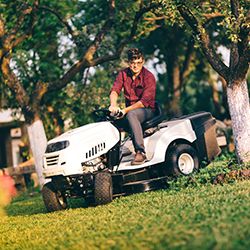 Yard Cleanup
If you have a big pile of branches, yard furniture, kids toys, or even your old dishwasher, your yard would be much better off without this junk to hold it back. At ARC Services we are your spring yard cleanup professionals. We can even run all of that extra junk over to the dump so you don't have to deal with it, because honestly, if you wanted to deal with it, it wouldn't be in your yard in the first place.
Deck/Patio
Your deck or patio probably gets a good amount of use during the summer months and spring is the perfect time to make sure it is up to par for those BBQ's. Over time, concrete patios can become stained and discolored with deposits left there from the sprinklers or the rain. One of the best ways to get rid of these marks is with a pressure washer. At ARC we can power wash your patio, making it look brand new. This technique is particularly effective when you have brick and the grout becomes dirty. If you have a wooden deck it is critical to make sure that there are no loose boards, wobbly hand rails, or unsafe conditions. The experts at ARC will help you get your patio or deck back to entertaining shape in no time.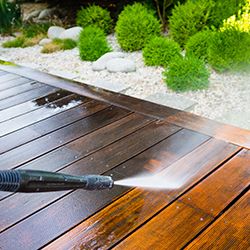 Don't Wait!
As we mentioned before, now is the time to contact your hometown handyman at American Residential and Commercial Services. No matter if you have some pressing roof work, a dirty patio, or even a busted chunk of siding, we can help. We urge you not to wait as we are filling up fast for the spring and summer. We know you will be pleased with the outcome and have completed hundreds of jobs for happy customers all over the area. Stay tuned next time when we talk a bit about the projects that you need to think about inside your home or business around springtime.